A beekeeper outfit will help to protect a beekeeper from bee stings. So how effective are they, why are they white and where can you buy one?
Introduction
Most beekeepers will have been stung at some stage, while checking on their hives, on their bees and harvesting honey. A beekeeping outfit will significantly reduce the risk of getting stung and there are many types around, but will have the beekeeper covered from head to toe. So in this article, we will have a look at what is included in a bee suit, why they are usually white, what they're made from and where you can buy one.
Why do beekeepers wear special clothes?
Beekeepers need to wear a bee suit because they are at risk of being stung by bees. Bee stings can be painful and bee stings can also cause an allergic reaction or even anaphylaxis (a severe, life-threatening allergy) in some people. Beekeepers do get stung when they are working with the bees and sometimes the bees will sting the beekeeper even if the beekeeper is wearing a bee suit. Beekeepers need to wear a bee suit to protect themselves from being stung by bees, or at least greatly minimise the risk and exposure.
How often do beekeepers get stung?
Beekeepers can get stung frequently, sometimes daily, especially if they are handling bees without taking proper precautions. It also depends on the nature of the bees and how you are handling them. If you are wearing a bee suit properly, and handling hives and bees appropriately, you can minimise the risk and the stings, meaning you stay safe.
Bee stings can be extremely painful and cause serious reactions in some people. Wearing a beekeeper outfit helps to protect the beekeeper from being stung.
What needs to be included in a beekeeper outfit?
Beekeepers get stung often, and it is important for them to have the right gear to protect themselves. The beekeeper suit should include a hat/mask with a thick mesh veil covering the face, thick gloves, pants, top and appropriate footwear such as boots (no open-toe shoes!) as bees can crawl inside loose sneakers or other types of footwear. Additionally, the beekeeper outfit should be made of thick material that can't be easily punctured by a bee sting. It is also important that the beekeeper outfit covers as much of the body as possible to reduce the number of places where a bee could potentially sting. That means the gloves should go over or under the sleeves and the pants should go over or into boots, so no wrists or ankles are exposed either.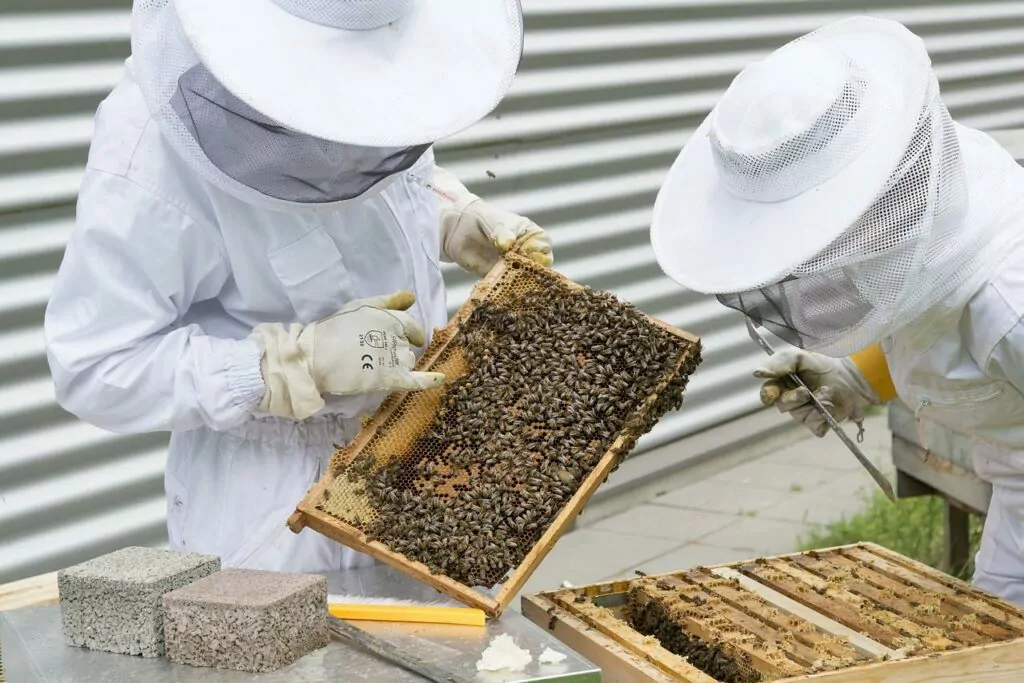 Can you get bee stings through a beekeeper outfit?
Yes they can! A beekeeper suit is sting resistant, but certainly not sting proof. The bee suit can significantly reduce the risk of getting stung but the reality is, it's not impossible. It's important that beekeepers are realistic about the possibility of getting stung at some stage, if not regularly, despite wearing beekeeping protective clothing.
Sale
Bee Suit for Women/Men,2XL Professional Beekeeping Suit with Ventilated Veil Hood and Professional Gloves,Protection for Backyard Professional and Beginner Bee Keepers
【TOTAL PROTECTION】Nothing is more important than safety,Ventilated cotton-blend beekeeping jumpsuit is equipped with a self-supporting and collapsible veiled hood and a pair of goatskin gloves,which covers every inch of your skin from head to ankle,protects against the stings of angry bees when harvesting honey or inspecting bees.
【EXCELLENT MATERIAL】 Fabrics:65% cotton,35% polyester,220GsmMade of sturdy mesh, the suit's hood will allow you to see clearly, without compromising your safety. you to handle various tools and beehives very flexibly. You can enjoy beekeeping freely.Durable zippers can take the wears and tears of daily use without breaking or jamming!
【Detachable Veil & Elastic Bands】The detachable fencing veil of beekeeper suit has the most suitable mesh opening, the spacious interior and wide views on the front and sides. The high elastic bands on the wrist, waists and glove cuff can form a tight fit to ensure no bee can get in.
【3 BIG HIVE TOOL POCKETS】The bee suit also features 3 convenient big tool pockets which are designed for carrying handy items,such as hive tool,bee brush,keys or other necessaries.
【WHAT YOU WILL GET】1*beekeeping suit ,1* pair beekeeping long sleeve gloves.If you have any problems with this Beekeeper Suit, you will receive an unconditional refund within 30 days and a free return service for 3 months.
Why are beekeeper outfits white?
There are a number of reasons why beekeeping outfits are usually white;
A lot of beekeeping happens during summer and as white is a good reflector of sunlight, it will keep a beekeeper cooler than if they were wearing black. This is of great importance if a beekeeper is spending a long period of time in their bee suit during hotter months.
Bees are more likely to attack someoe wearing a black bee suit, or other dark colour. In the wild, many predators (such as bears or dark beetles) have a dark colour, so bees get more defensive, whereas the white colour seems to keep the bees much more calm.
Bees can more easily be seen on a white coloured bee suit, allowing the beekeeper to brush them off.
Where can you buy a beekeeper outfit?
You can buy a beekeeper outfit at many online retailers who can ship them out to you. You can try Beekeepinggear.com.au, Alibaba, or the HoneyFlow site. You can also find them on Amazon. Individual retailers should provide details about individual suits with regards to their material and quality.
Sale
Oz Armour Beekeeping Suit Ventilated Super Cool Air Mesh with Fencing & Round Brim Hat (XXX-Large)
🐝 PROTECTION WITH VENTILATION – Protection with Air circulation around your body with Three-layer mesh sting proof material, plus an additional layer for Sweat Absorbance It comes with two hoods. Both Veils/hoods have strong and high visibility mesh. Extra Sweat absorbent Layer.
🐝 UNIQUE FEATURES – The fencing hood opens from the front, should you need to adjust your glasses or take a sip of water. It also features a rigid insert within the hood, which distances the mesh from your face.
🐝🐝 LEG HIGH ZIPPERS- Allow easy wearing and removal. The Velcro and elastics on the ankles and wrists allow adjustment for your comfort, and the veils easily attach with zippers.
🐝 DURABLE & LONG-LASTING – STRUDY YKK Zipper, Double sliders on the leg high zippers and the front zippers to easily access the internal pockets and convenient in the bathroom. For your safety, zippers on the neck overlap each other so no chance of bee entrance.
🐝 STOUT SIZES – For BIG & SHORT beekeepers, Please See STOUT Sizing recommendations in the images
FAQs about Beekeeper outfits:
What is a beekeeper outfit usually made out of?
Usually beekeeping outfits are made from thick cotton. They may also have nylon, and mesh. Thick cotton is breathable but makes it hard for bees to penetrate. Nylon is thinner than cotton and doesn't breathe like cotton does (making the beekeeper hotter) but it's also difficult for bees to grip onto, meaning they can easily slide right off. Mesh is usually included as part of the veil, but some bee suits have several layers of mesh as the suit itself.
Some bee suits use a combination of these materials.
Can I just wear regular clothes instead of a bee suit?
You can, but you will probably get stung! It will not protect you from stings nearly as much as a properly made beekeeping suit. If you're wearing thick denim jeans, boots, gardening gloves and a leather jacket, you might be okay, but you may also be very hot! You also need to ensure your head and face are covered and beekeeping suits have you covered from head to toe.
Why do some beekeepers not wear beekeeper outfits?
There are many beekeepers who have become used to getting stung and also know how to handle their hives and their bees, without irritating them or triggering them too much. So some of these beekeepers decide to go without the bee suit. They may also know from experience that they don't have any allergies to bee stings and may not be too worried about the occasional sting, which in reality, for experienced beekeepers, may be the case.
Conclusion
A beekeeper outfit will keep a beekeeper safer than any other clothing option. Bee stings can hurt a lot and can also cause serious allergic reactions. Bee suits are usually white for a number of important reasons and include head-to-toe protection with long sleeves, pants, a mesh veil and hat, as well as thick gloves.
Have you tried handling bees or hives without a beekeeper suit? Or do you have a beekeeping suit you can recommend? Let us know in the comments!
You might also be interested in our articles on:
Honey In Tea; Is It Good For You?
Royal Honey; What Are The Health Benefits?
Latest posts by Thomas Callaghan
(see all)