Chances are that if you've been suffering from a pesky cough and sore throat, that you'll do almost anything to relieve the pain and discomfort.
Sore throats can be one of the most uncomfortable symptoms associated with the common cold and flu, and they can impede your ability to eat, drink, and speak.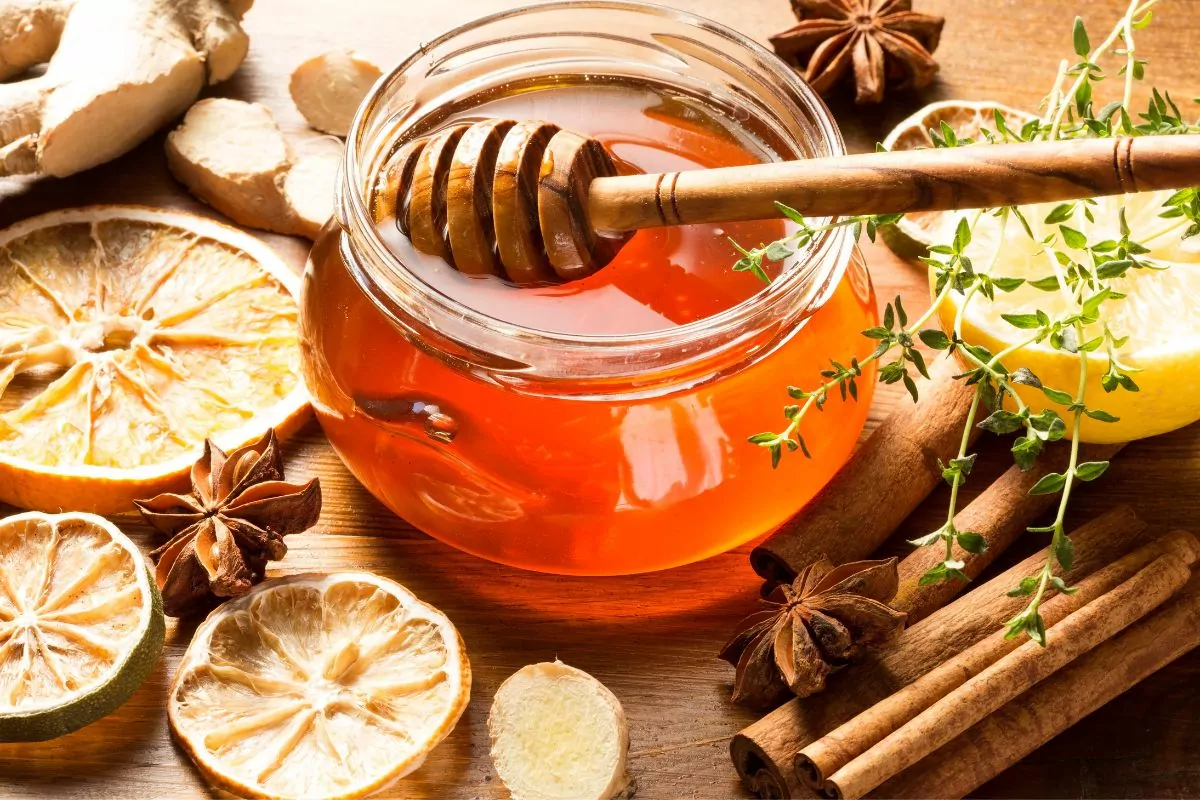 If you're still waiting for your doctor's appointment to receive some medicine, there are some natural remedies you can use in the meantime.
Perhaps one of the most popular suggestions for clearing a sore throat is the use of honey.
This is probably what's led you to this article, as you're wondering if honey may really be an effective aid for your symptoms.
Thankfully, you've come to the right place, below, we've compiled this handy guide that will tell you everything you need to know about honey within the context of remedies.
To find out more, simply keep reading below, as we take a closer look.
Is Honey Effective In Treating A Sore Throat?
So, why don't we just jump straight in and answer the question at hand? Is honey actually effective at relieving the symptoms associated with colds, such as a sore throat.
The simple answer to this question is, yes, honey is an incredibly effective natural remedy for sore throats.
In fact, the use of honey medicinally for sore throats has been applied for centuries.
Nowadays, it's found itself in medical literature, and the subject of several different studies which mark its immense benefits.
The reason why honey is so great at alleviating a sore throat, is because it contains a whole bunch of anti-inflammatory, and antimicrobial properties, which can help to decrease the irritation demonstrated by your throat.
In addition to this, if you're also suffering from a cough that's secreting a lot of mucus, then ingesting honey has also been proven to reduce the amount of mucus you're coughing up.
What Type Of Honey Is Good For A Sore Throat?
As many of you will already know, not all honey is made the same.
Many of the most common ones that you'll find in the supermarket have actually been pasteurized, and have a lot of added ingredients that aren't really honey.
In the process of pasteurizing the honey, this takes away lots of the medicinal benefits associated with the product, and is poorly done to extend the shelf life of the product.
Therefore, we'd recommend that you visit your local health store, and choose a pot of honey that's completely raw.
Manuka honey is the best that you can get for coughs and colds, and has a whole bunch of medicinal properties, including aiding your body in producing antioxidants.
How Do I Use Honey To Treat A Sore Throat?
Now that we've covered that honey is adept at treating sore throats, as well as coughs and colds, we can move on to discuss how to use it.
How exactly do you take honey for a sore throat, and how many times a day should you take it?
It's a really simple process, and all you need to do is to take a teaspoon of honey, and try to hold it at the base of your throat for a few moments before swallowing it, so it has the opportunity to graze the area.
It's recommended that you do this approximately five times a day.
The reason why you're advised to take it no more than this is because of the sugar content.
If you have a young child, then we'd recommend that you dilute the honey in some warm water to drink first, when using it to treat a sore throat.
Perhaps you yourself would prefer to drink it as a beverage? If so, you can simply mix it with hot water, and some lemon juice to feel some relief from your symptoms.
You can also mix the honey in with a wide variety of other soothing items, such as herbal tea.
Is It Safe To Take Honey For A Sore Throat?
It is absolutely safe to take honey in order to treat a sore throat. In fact we'd recommend it as your first line of defense before you're able to receive medication from the doctor.
You may notice that raw, organic honey is highly adept at treating your symptoms, and may even clear them up entirely.
It's also a good option for children who are younger than six years old, and can't take prescription medication, as it's a natural way of alleviating the symptoms.
In addition to this, some patients who are suffering from cardiovascular problems, or are taking certain medications might not be able to use traditional medicine for their symptoms.
Therefore, raw honey can be a good option in these cases.
Final Thoughts
To sum up, honey is incredibly beneficial for those who are suffering from a sore throat.
The product contains antioxidant and anti inflammatory benefits, which can help to ease the pain associated with the sore throat.
In addition to this, if you're suffering from a cough that's also producing a lot of mucus, honey has also been proven to reduce the amount of mucus associated with colds and flus.
We hope that you enjoyed this article, and that it gave you some more information regarding the subject.
Latest posts by Thomas Callaghan
(see all)